The Pu'u O'o eruption on January 3rd, 1983 on the "Big Island" of Hawaii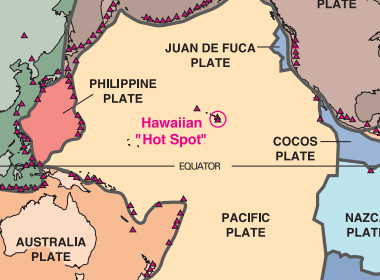 The islands of Hawaii have been and are still being created by a hot spot in the middle of the pacific plate. Some plate boundaries include Divergent boundaries (East pacific rise and the Chile rise) boundaries, Convergent boundaries (subduction under the North american plate, Okhotsk plate, Philippine plate, and Indo-Australian plate), and Transform boundaries along some of the North American plate.   
The specific type of event that happen on January 3rd was a Fissure eruption (volcanic hazard) where a lines of vents 6 kilometers (3.7 miles) wide gave way (often called a curtain of fire) along the eastern rift system of Kilauea.
 Since then, lava flows have been produced from these fissures since 1983. changing paths over time.
The most interesting thing I have found out about this eruption is it is ranked as the longest and voluminous known outpouring of lava from Kilauea Volcano East rift zone in more than 500 year and its most dangerous period of time was in 1990 when a breakout flow from a lava tube slowly entered the town of Kalapana. After 9 months, the town was completely engulfed by 15-25 meters ( 50-80 feet) deep of lava. So cool!
A few sites that helped me understand the topic better:
http://www.geology.sdsu.edu/how_volcanoes_work/
https://www.geolsoc.org.uk/Plate-Tectonics/Chap3-Plate-Margins/Mid-plate/Hawaiian-Islands
https://volcanoes.usgs.gov/volcanoes/kilauea/geo_hist_1983.html