For this week, we are going to explore a human+geology caused disaster to bring awareness to the issues we can have when dealing with large-scale infrastructure as well.
On March 12th 1928 at approximately 11:58 PM, the St Francis dam om California failed, resulting in a ~5.5 hour-long flood through the Santa Paula-Ventura area in California. More than 400 people died during the resulting flood. The St Francis dam was built in San Francisquito canyon to hold water that was running through the California Aqueduct from the Owens Valley. The dam was approximately 205 feet high  and spanned 1225 feet along its crest and 150 feet at its base across a narrow spot in the valley and canyon. The dam was 160 feet thick. The dam construction was overseen by William Mullholland, who at the time was one of the architects of the massive growth of Los Angeles – made possible in large measure by the piping of water from the Owens Valley and other parts of California, to the growing and thirsty town. While he had worked on another dam (Mulholland dam), Mulholland was essentially a "self-taught" civil engineer. The dam failure is considered one of the worst civil-engineering disasters in US history. The failure was originally thought to have resulted from issues with the dam's foundation. More recent work indicates that the ground beneath the dam also played a role, in the form of water-saturation re-mobilizing an old landslide structure (see quote below for more details*).
For this week's assignment, read the following Smithsonian Magazine article that explains the history leading up to, during, and following the disaster and answer a couple questions: https://www.smithsonianmag.com/history/occasions-i-envy-dead-st-francis-dam-disaster-180954543/?page=1
1) How much water was released during the dam failure?
2) How were people downstream warned of the coming flood, once people realized what was happening?
3) Take a little tour in Google Earth in the region, by searching for St Francis Dam.  From your search, can you figure out how the water is now stored in this region to serve LA?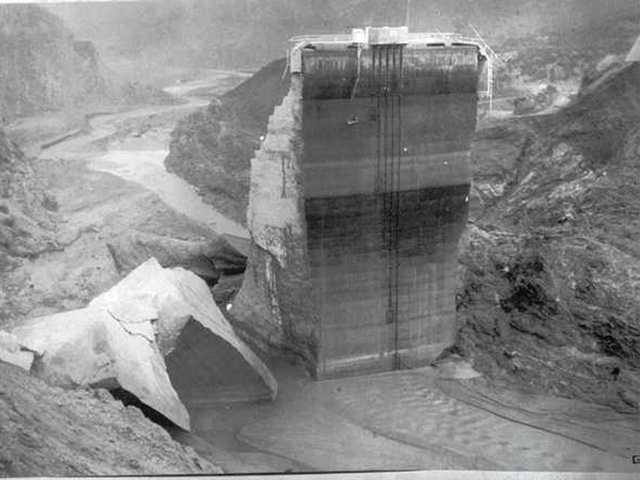 Photo from http://archive.signalscv.com/archives/146899/
*"Although opinions vary, more recent and more thorough investigations assign the ultimate failure mode to weakening of the left abutment foundation rock due to the saturated condition created by the reservoir which essentially re-activated a large landslide that combined with a destabilizing uplift force on the main dam caused failure to initiate at the dam's left end. In quick succession as catastrophic failure was occurring at the left end, the maximum height section tilted and rotated which destabilized the right end of the main dam causing catastrophic failure at the right end as well." (http://damfailures.org/case-study/st-francis-dam-california-1928/)
Additional Resources and Sources of information for the post:
http://waterandpower.org/museum/St.%20Francis%20Dam%20Disaster.html
https://scvhistory.com/scvhistory/stfrancis.htm
http://damfailures.org/case-study/st-francis-dam-california-1928/